An unstoppable force in Waterjet (Water Jet Cutting Machines).
Combining 50 years of engineering know-how with lessons learned as a job shop operator and parts manufacturer, Hypertherm products and AccuStream parts for non-Hypertherm systems are designed differently from the start.
Common pain points are eliminated to create the industry's most reliable high-pressure waterjet products.
Enjoy the extended maintenance intervals, reduced maintenance time, and maximized performance that comes from partnering with a company driven to continuously improve and innovate.
Get peace-of-mind from Hypertherm's worldwide sales, distribution, and service infrastructure.
Thanks to Swift-Cut, it's never been more affordable or achievable to own a Water Jet Cutting Machines. Waterjet technology produces excellent fine-feature cut quality with low edge taper, no heat-affected zone, a narrow kerf, and dross-free cutting. It also offers the ability to process nearly any material and a thickness range capability unmatched by other cutting technologies. The Swift-Jet machine with its easy to use software and powered by Hypertherm HyPrecision pumps provides high sector leading cutting on a wide range of materials at a low-cost investment. Easy to use with exceptional aftercare and support, the Swift-Jet is the answer to affordable, high precision, high quality in-house cutting.
Swift-Jet is our new, affordable and easy-to-use waterjet profiling solution. Offering precision cutting and superior build quality, this smart machine can be used to cut textiles, rubber, foam, plastics, leather, composites, stone, tile, metals and much more. Our machines are calibrated using the very latest Renishaw ball bar testing equipment, ensuring outstanding dynamic positioning and repeatability.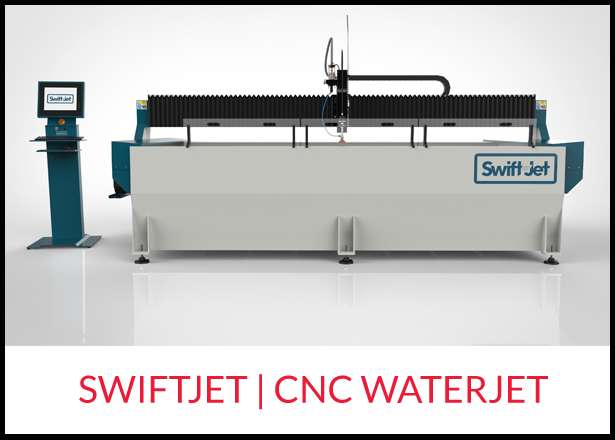 Automatic nesting
Automatically nests parts for economical sheet usage
Automatic lead in/out
Software automatically applies lead ins/out for quicker programming
Micro joints
Tabs to prevent parts moving whilst cutting
Sheet Alignment
Align the cutting path with misaligned sheets on the cutting bed.
Reference points
Nest parts in scrap areas to fully utilise the sheet
Typical applications
Waterjet technology produces excellent fine-feature cut quality with low edge angularity, no heat-affected zone, a narrow kerf, and virtually dross-free cutting. It is widely used to cut stainless steel and aluminum, but its flexibility also makes it useful for other materials.