Section Benders | Section Bending Applications | Rolling Tube
Typical applications for section bending include Angle flanges/Flat Bar/ angle bending/structural supports/tube and tube coil bending and also architectural steel work applications.
Engineering Machinery's experienced metal rolling division can offer the right machine for your project's requirements for the rolling of standard structural shapes in the pipe, SHS, angle, flat and other sections.
Our expertise enables us to offer the right section bending rolling to pro-form consistently from drawings, designs, templates, and product samples insuring consistency and quality.
The tube division at Nargesa is bustling with excitement. There are more high-quality products available than ever before. Section Bending and mandrel benders are top sellers for Engineering Machinery and allow you to bend tubes for use within your firm.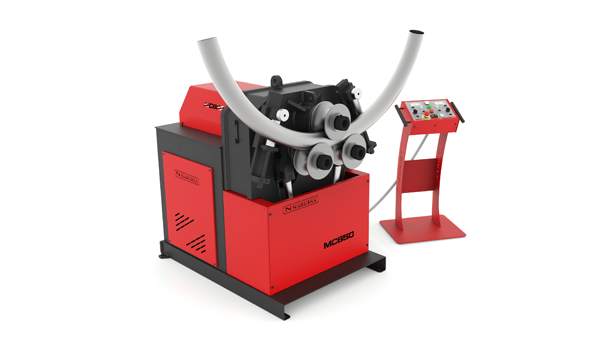 Engineering Machinery & Services are the leading supplier of section bending machinery in both Southern and Northern Ireland , supplying numerous machines from worldwide leader Nargesa |
The MC650 NARGESA Section and pipe bending machine is ideal for manufacturing flanges, greenhouses, railings, large structures for construction and all types of circular figures in different small and large sections and tubes.
Profile Bending Machine MC400
Section bending machine MC400 NARGESA, made of welded and mechanized steel sheet. Different from others, this one is not made of cast iron. Ideal for making flanges, greenhouses, balausters, tables, chairs, doors, windows… making a great number of circular shape in all kinds of profiles. Its robustness, axis diameter, reducer capacity and other features, make it one of the best bending machines in the market, within the category of three traction rollers, which is an essential condition to work with pipes and obtain a perfect finish.
All products Nargesa are according to the European directives and regulations CE regarding manufacturing of industrial machinery.

In this tutorial clip we show you how it should be done the bending of the different profiles, pipes and tubes to get a good bent or shape. The placing of rollers is very important. You can see how to bend flat bar on its flat side and on its edge. Bending square or rectangular pipes, how to bend T and U profiles. Examples of angle bending . Getting to know the rollers used for Stainless Steel pipes, how to bend special aluminum profiles…
If you have any product-related queries then contact us, & For new updates follow us on our  Facebook page.