Engineering Machinery specialise in the supply and sale of new Ermaksan Shearing and Sheet metal Guillotines cutting guillotines. If you are looking for speed, versatility, and high efficiency, our range of guillotines below will have what your manufacturing process requires.
Our Sheetmetal Guillotines range comes with the most up-to-date software on our controllers from Delem and Cybelec exhibiting rake angle/number of cuts and more to the operator prior to setting up his job. This constant innovation plays an important role in Ermaksan's Guillotines . We use the most sophisticated equipment and systems in a streamlined process with strict quality control – contact the office today to arrange a viewing.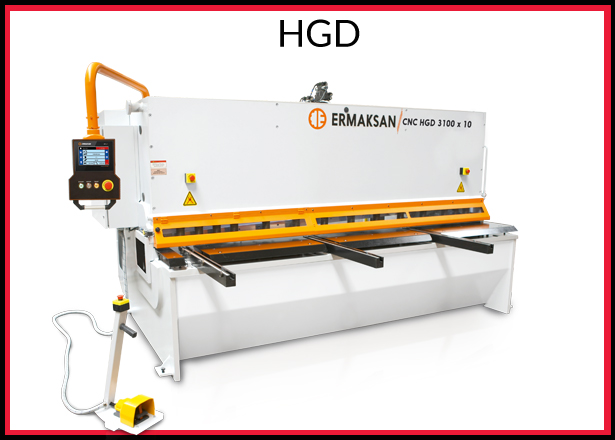 Ermaksan comprehensive range of press brake machines gives you the customers maximum flexibility and cost-effective productivity.
ERMAKSAN, HGD Series shears are designed superiorly for sheets 6-20 mm with high quality material and workmanship and produced to be used for many years in heavy duty conditions without problems..
CNC HVR Variable Rake Hydraulic Guillotine Shear
Excellent cut, perfect speed. Ermaksan CNC HVR Hydraulic Guillotine Shear can cut all kind of metal sheet to maintain the highest production capacity with maximum precision and quality.